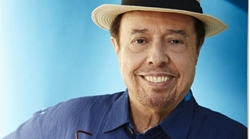 Years after his bossa​ nova version of Paul McCartney's​ song The Fool on the Hill, Sergio Mendes​ received a letter from the Beatle thanking him for his interpretation.
Burt Bacharach​ was similarly appreciative of what Mendes​ did with The Look of Love.
In the late 1960s, Mendes​ and Brasil​ '66 were a kind of machine for making hits, thanks to the pianist's ability to "Brazilianise​", as he puts it, other people's songs.
"Brazilian music is a special kind of music," he says on the telephone from Los Angeles, where, now 77, he has lived for many years. "I'm making a new record right now, and people come in to listen and they immediately have a smile on their face because it makes them feel good.
"It's joyful and it's positive, and I like that very much. That's what I've been doing for a long time: beautiful songs, great melodies, great harmonies and rhythms."
Source: John Shand/canberratimes.com.au