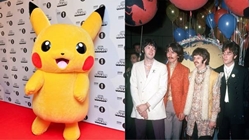 In what is quite possibly one of the most nostalgia-inducing pieces of music ever created, one man has combined two of the 20th century's most popular cultural creations into one super tune.
Josef Kenny has worked in production and remixes for other people, and writes music inspired by synth-pop and funk, but the Eleanor Rigby battle theme might be his best work yet.
Combining the famous Beatles song with the battle music from early Pokemon games, it really is a treat for the ears as well as the memory.
"I based the arrangement on the music from the first-generation, original Pokemon games," Kenny told the Press Association. "Specifically the music that plays when you encounter a wild Pokemon.
"Junichi Masuda's battle music for that game is quite similar to George Martin's backing string arrangement for Eleanor Rigby," he continued.
Source: independent.ie