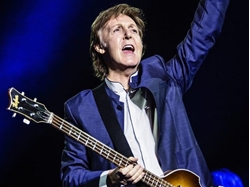 Last week, our high school-age grandson, Aidan, said something that shocked us: "Who's Paul McCartney?"
We were discussing the singer/songwriter's upcoming June 6 Kohl Center concert, one of two Wisconsin dates along with Green Bay's Lambeau Field, that are part of his "Freshen Up" tour.
How could a musical icon of McCartney's stature draw no more than a blank stare from a member of the emerging generation?
Lest we forget, McCartney, along with John Lennon, George Harrison and Ringo Starr, were collectively The Beatles, credited with almost single-handedly changing the timbre and texture of popular music in the mid-20th century. Bursting on the U.S. music scene in 1964 with a youthful exuberance and a playlist of silly love songs, the Four Lads from Liverpool pushed aside Elvis Presley and his pomaded pompadour with their mop-top haircuts, collarless suits and Marx Brothers antics.
Paul was the heartthrob, the "cute Beatle." John was the intellectual — he wrote and illustrated two books of surrealistic poetry. George was the quiet one, and Ringo was, well, Ringo. Paul, 76, and Ringo, 78, both of whom have been knighted by England's Queen, are still alive and performing. John died in 1980 at age 40 of a gunshot wound, murdered in the street outside his New York City apartment. George died in 2001 at age 58 of lung cancer, which had spread to his brain, in his Los Angeles home.
Source: Michael Muckian/isthmus.com