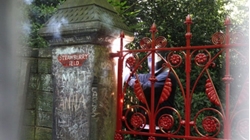 The original Strawberry Field gates are to go on display in Liverpool to mark fifty years since the UK release of The Beatles' hit.
The iconic gates from The Salvation Army's children's home will be returned to their home city of Liverpool to mark the occasion.
They were replaced by replicas in 2011 to protect them. The song, written by John Lennon, was inspired by the Strawberry Field site in Woolton, close to where he grew up with his aunt Mimi.
The woods around the children's home were said to be a place of peace and refuge from Lennon's troubled childhood, where he played in the grounds with friends.
As custodians of the site, The Salvation Army were aware of how important the gates had become to Fab Four fans, they recognised that the original gates were extremely fragile and moved them to a secure location, to protect them for future use.
Now the original gates, which have been in storage ever since, have been loaned by The Salvation Army to the award-winning Beatles Story where they join a wealth of Fab Four memorabilia.
Source: ITV News