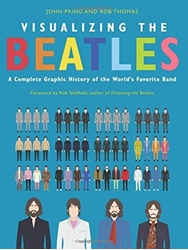 "As designers, we wondered what it would look like to visualize The Beatles and chart their story–the evolution of their music, style and characters–through a series of graphics," write John Pring and Rob Thomas, lifelong friends and authors of Visualizing The Beatles, coming May 1 in the U.S. from Dey Street Books. (The book was released in the U.K. in 2016 by Orphans Publishing.)
And so they have, with their magical "history" tour of the Beatles career, arranged chronologically beginning with the band's pre-Beatles days through to Abbey Road and Let It Be.
The book also takes welcome detours with pages devoted to such topics as "Press Conference Humor," "Style Through the Years," "Fab Four Memorabilia Sales," "Hairstyles Over the Years," and so on.
Source: Best Classic Bands Staff/bestclassicbands.com