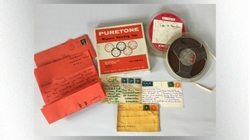 A reel-to-reel tape featuring an unreleased song that George Harrison wrote and recorded in 1968 for his friend Mary Bee will be auctioned at a previously reported Beatles memorabilia sale taking place September 11 in Warrington, U.K., outside of Liverpool. The tune, titled "Hello Miss Mary Bee," is heavily influenced by Indian music, like a number of other songs Harrison wrote around that time.
The tape also includes renditions of the Beatles songs "Across the Universe," "The Inner Light" and "Lady Madonna," among others, some of which are different from the officially released versions of the tunes. Another tape, featuring music from George's first solo album, the soundtrack to the film Wonderwall, also is part of the lot being auctioned.
In addition, the lot includes a six-page letter and postcards that Harrison and his first wife, Pattie Boyd, sent to Bee that reference the song George wrote for his friend and also discuss the couple's then-recent trip to India with the other Beatles members.
Source: columbusnewteam.com