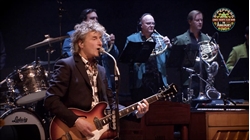 SATURDAY 4 MAY 2019
LONDON PALLADIUM
On May 4th at London's Palladium, The Analogues will bring to life one of music's most cherished and expansive LPs, The White Album – playing the 30-track record in its entirety, from the very first to very last note.
It takes a special kind of obsessive to perfectly recreate on stage an album never made to be performed live. But The Analogues are no ordinary Beatles fans. They are the type to instigate a viral campaign to help locate the exact bell sound from "Everybody's Got Something To Hide Except For Me And My Money", listening to every submission on the phone (they eventually found it in a Maritime store) – or spend months trying to track down a real harpsichord, even if it only appears on one Beatles track ("Piggies").
The Beatles stopped performing in 1966, fed up of the constant hysteria at their shows that began to inhibit rather than propel the band forward. This decision meant albums such as 1968's The White Album were driven by studio experimentation and, while they changed music, fans were never able to experience the records live. Indeed, many thought it could not be done.
Fifty years on, The Analogues have gone to extraordinary lengths to bring the album to life. Following on from performances of Magical Mystery Tour and Sgt. Pepper's Lonely Hearts Club Band, the Dutch five-piece now aims to tackle arguably their most ambitious project to date. Their starting point remains the same: musical authenticity – the band search the planet to locate every period-correct instrument to create a near note-perfect homage – every guitar, piano, synth, and in this case, Mellotron organ. "We had a difficult time finding a good Mellotron as not many were made", explains drummer Fred Gehring. "We ended up owning serial number 10. We understand Sir Paul owns number 9."
For more information / tickets, head to: http://www.theanalogues.net/