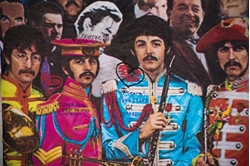 I know it's hard to believe, but according to Nielson, the Beatles were the biggest-selling rock band during the first half of 2020. No one, other than perhaps the Beatles themselves, would have predicted their monumental success in 1962 when a catastrophic mistake nearly broke up the band.
Fortunately, "Quitting" Wasn't In The Beatles' Songbook
"Listening to the tapes, I can understand why we failed the Decca audition. We weren't that good…" Paul McCartney
The words "failure" and "The Beatles" seldom appear in the same sentence. However, much like a nascent startup, the Beatles' early career was comprised of a series of failures, culminating in their unsuccessful audition with the leading record company of their era, Decca Records - a misstep that nearly caused the band to call it quits.
Entrepreneurs can draw several startup lessons from the way the Beatles dealt with Decca's devastating rejection.
Source: John Greathouse/forbes.com