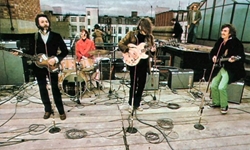 A bizarre, head-shaker moment of realization occurs less than two minutes into the 20-plus-minute film, during our first look at the passersby on the street, five stories below: Some of them are actually passing by.
Across the street from the curmudgeonly pedestrians, on the roof of The Beatles' Apple Corps headquarters at 3 Savile Row in London, the band is performing what will turn out to be its final public concert. They could easily have filled any stadium—any space at all, really—in the world, but there they are, the four of them in the flesh, the one and only actual Beatles, on Jan. 30, 1969, playing for free for the benefit of anyone in the neighborhood who cares to stop and listen.
And yet some people are moving on. They take a brief look to see what the racket is, some make sour faces indicating mild annoyance, and then they continue on their way back to work. Can't miss that marketing meeting! The Beatles performing an impromptu 42-minute live gig? New songs? John, Paul, George and Ringo right over there?
Source: Best Classic Bands Staff