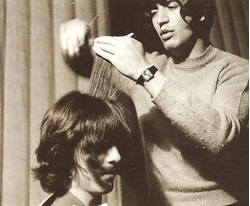 As hairdresser to the Beatles in the 1960s, Leslie Cavendish was exposed to sex, drugs and rock n' roll. However, working for Vidal Sassoon, the most famous hairdresser of the time, he was under strict instructions that the female clientele – including Jane Asher, Mary Quant and singer Shirley Bassey – were off limits. And drugs didn't float his boat. But rock n' roll and the Beatles were a dream come true.
Get The Jewish News's Daily Edition by email
and never miss our top stories Free Sign up!
In his recently-published book, The Cutting Edge: The Story of the Beatles' Hairdresser Who Defined An Era, Cavendish (who is pictured below, strumming the Gretsch guitar John Lennon used during the recording of Paperback Writer), lifts the lid not just on Beatlemania, but also on popular culture in an era when the BBC only played "safe and proper" music by artists speaking "the Queen's equerry".
Source: By Alex Galbinski/jewishnews.timesofisrael.com