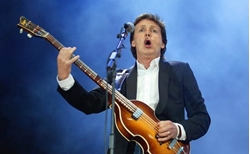 During in a recent interview with Sharyn Alfonsi from CBS News, The Beatles bassist Paul McCartney has revealed the behind his song called "Michelle".
Paul said:
"Michelle… Which just meet me at the parties… Mainly an art school parties. John went to art school. And so me and John were the young kids crushing the party. So we weared black turtlenecks and try to look 'very French'. I often take the guitar, sitting the corner and humming.
Thinking, you know some girl would say "WOW!" But never happened. Some day John said, "Remember that French thing you have you should finish that!" So I finished that."
CBS wrote:
"McCartney said when Lennon attended art school parties, he and George Harrison would tag along. In an attempt to look more sophisticated, McCartney says he wore black turtlenecks and sat in a corner, where he strummed a guitar and sang in French. He hoped, unsuccessfully, to impress a girl.
The girl never came, but a new song did.
Source: Feyyaz Ustaer/metalheadzone.com