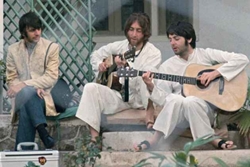 In February 1968, members of the legendary rock band, The Beatles, arrived in Rishikesh for a "momentous" sojourn. A teenage rebel -- a diehard Beatles fan himself -- watched them with keen interest. Five decades later, he has compiled an account of their stay here, and maintains that the three-year period that marked their affair with India was particularly significant in the life of the band.
"This is when The Beatles reinvented themselves from being the world's most famous pop stars into pioneering musical artists, creating new parameters of contemporary music," says Ajoy Bose, who has written an exhaustive account of their journey in "Across The Universe: The Beatles in India".
Bose, a well-known journalist, finds it interesting that their growing relationship with India, "led by George Harrison, who was particularly into Indian music, culture and religion, went side by side with their experiments with narcotics and psychedelic drugs".
Source: IANS/business-standard.com