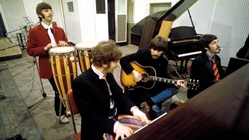 The most ambitious reissue yet of an individual album from the Beatles' catalog is coming May 26 with an expanded and newly remixed edition of the Fab Four's 1967 pop masterpiece, "Sgt. Pepper's Lonely Hearts Club Band."
Consistently ranked by critics and fans among the most influential rock albums of all time, "Sgt. Pepper" is being reissued in multiple formats and editions, including new stereo and surround-sound audio mixes along with nearly three dozen previously unreleased recordings from the same sessions.
"It's crazy to think that 50 years later we are looking back on this project with such fondness and a little bit of amazement at how four guys, a great producer and his engineers could make such a lasting piece of art," Paul McCartney writes in a new introduction for the anniversary edition of a project that started out as his baby.
In a 1970 interview with Rolling Stone, John Lennon said, "It was a peak. Paul and I were definitely working together."
Ringo Starr, the quartet's other surviving member, writes in his introductory remarks to the new edition that "'Sgt. Pepper' seemed to capture the mood of that year, and it also allowed a lot of other people to kick off from there and to really go for it."
Indeed, the Doors' drummer, John Densmore, told The Times recently, "We were working on our second album, 'Strange Days' [in 1967] and while we were working on it, we got an early copy of 'Sgt. Pepper' and we just died. That made us experiment more, inspired us to try the Moog synthesizer, made us generally be wild and just say 'What the hell?'"
By: Randy Lewis
Source: Los Angeles Times