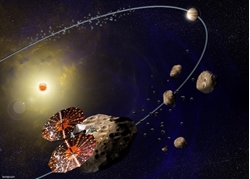 When The Beatles released Sgt. Pepper's Lonely Hearts Club Band fifty years ago, they inspired an entire generation of artists, musicians and, as it turns out, scientists.
One of the album's most iconic songs, 'Lucy In The Sky With Diamonds' was immediately branded a psychedelic anthem, though John Lennon said it was inspired by a drawing his 3 year-old son Julian made of his classmate Lucy and the whimsical poeticism of Alice in Wonderland and The Wind in the Willows.
"When we sat down to write the song at John's house, Julian's drawing of Lucy and the stars was what inspired us," said Paul McCartney. "At the top of the drawing Julian had written in childlike script, 'Lucy In The Sky With Diamonds.'"
Almost a decade later, the song would become the backdrop to one of the biggest scientific discoveries of our time. On 24 November 1974, a team of scientists was digging in an isolated area in the Afar region of Ethiopia when paleoanthropologist Donald Johanson spotted a small fossil elbow bone. He immediately recognised it as coming from a human ancestor and soon discovered more parts that made up almost a complete hominin skeleton.
Found at a site where the sediments were known to be 3.2 million years old, it was clear that this discovery was cause for celebration.
By: Laura Stavropoulos
Source: UDiscover - Music