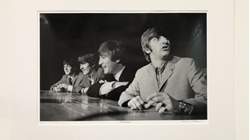 More than 350 previously unseen photos of The Beatles at two early US shows have fetched £253,200 at auction.
Mike Mitchell captured the Fab Four arriving at the venues, at pre-show press conferences and on stage in Washington DC and Baltimore in 1964.
A total lot of 413 negatives were sold with copyright for £253,200 by Omega Auctions. Forty-six of those have been seen before when auctioned in 2011.
A black Mercedes AMG George Harrison bought in 1984 sold for £43,200.
Mitchell photographed the band at their first ever US concert, at Washington Coliseum on 11 February 1964 - two days after their famous appearance on The Ed Sullivan Show.
Source: bbc.com