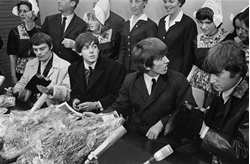 Sometimes, something as simple as a single clause in a contract can speak volumes about people. For proof, look no further than a contract for The Beatles for a 1965 concert in the state of California, which specified that the band would not have to perform in front of a segregated audience. Something that should be seen as a huge statement considering that the Civil Rights Act was passed in 1964.
What Convinced The Beatles of the Need for That Clause in Their Contract?
With that said, it is interesting to note that said contract was far from being the first time that The Beatles had taken a stance on the issue of racial segregation. After all, when The Beatles was on their first tour in the United States, they were surprised by the fact that the Gator Bowl in Jacksonville, FL was segregated on the basis of race. As a result, the band refused to play, which was even more impressive because this happened at a time when they were still seen as one more short-lived teen sensation rather than the musical titans that they went on to become.
Source: Nat Berman