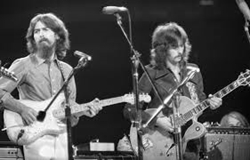 By 1968, George Harrison was having a rough time being in The Beatles. Though he was writing songs such as "While My Guitar Gently Weeps" and "Long, Long, Long," his bandmates still took some convincing to give his material any attention. That had begun to wear on George.
George didn't have the same problem when he played with, say, Bob Dylan or his friend Eric Clapton. During a trip to America in late '68, George jammed with both Dylan and Clapton, the latter of whom was playing in Cream at the time.
In fact, he and Clapton co-wrote a song just before that period that turned up on Goodbye (1969), the final album by Cream. And though you wouldn't know it from the credits on the record, George also played rhythm guitar on the song he composed with Clapton.
Source: cheatsheet.com