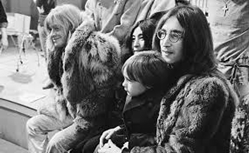 By the spring of 1967, The Beatles were as close to the top of the world as could be. They'd been racking up No. 1 singles and albums for three years straight and had annihilated whatever box-office records existed for bands on tour.
In short, they could do whatever they wanted, and they figured they'd use up some of that credit. After leaving touring behind for good, they decided to make the ultimate studio record. That album, which became Sgt. Pepper's Lonely Hearts Club Band, took an unprecedented five months to record.
With "A Day in the Life" and other brilliant tracks already down, The Beatles knew they had another masterpiece on their hands. So John Lennon thought it was a perfect time to push the envelope. That's when he came up with a song based on a tagline from a London phone book.
As Paul McCartney recalled, John didn't have lyrics beyond "You know my name, look up the number."
Source: cheatsheet.com