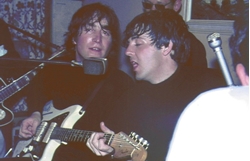 By early 1969, The Beatles had already started going their separate ways. In January of that year, the contentious Let It Be sessions exposed the many animosities between the band members. Before they'd put a dent in the album, George Harrison walked out with plans to quit the group for good.
George's problems with Paul McCartney ended up on film for all to see in the Let It Be documentary. But that was only part of the story. George and John Lennon reportedly got into a fistfight during these sessions as well. And Ringo remained weary following his own walkout the previous summer.
With John and Yoko set to be married in March '69, The Beatles didn't seem built to last. Yet they wouldn't go out without releasing many more classic songs. "I've Got a Feeling," the last great collaboration between John and Paul, was among them.
In between the Let It Be and Abbey Road sessions, John found himself with a great wedding story to tell but only Paul around to help him record it. So he and Paul knocked it out on their own. Soon after, it became the final Beatles No. 1 hit in England.
Source: cheatsheet.com