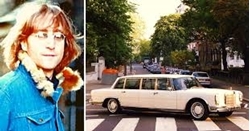 Lennon asked for Daimler's premium luxury motorcar, one of stature, and grace. The Mercedes-Benz 600 Pullman was the reply.
There are few names in world history that spark emotions of love, peace, and anger all at the same time, you could say John F. Kennedy or even Elvis Presley fits the description of that statement, but none had so much personal impact as the man they call John Lennon.
For those who just landed on planet Earth, he was a part of the most famous and impactful band in human history, The Beatles. But he was more than that, he was a symbol of peace, love, and progressivism which has only grown stronger in past years. John Lennon and Paul McCartney (his fellow Beatle) are regarded as the sole pinnacle of impactful and transcendent songwriting and have provided level after level of meaningful lyric and sound.
Source: Max Larsen/hotcars.com