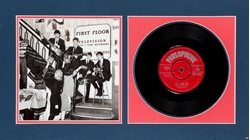 "At the actual breakup of the Beatles, it was painful," Paul McCartney said during a 1990 television interview. "We likened it to a divorce."
Twenty years earlier on April 10, McCartney signaled the end of the Fab Four during his unveiling of his solo album "McCartney."
On April 9, McCartney released a Q&A package to the British press in which he explained his reasons for making his solo album. Compiled with the help of Apple executives, the self-interview also contained questions McCartney imagined he would be asked regarding the possibility of the Beatles splitting up.
While stopping short of saying that the band was finished, McCartney stated that he did not know whether his "break with the Beatles" would be temporary or permanent.
It didn't quite feel real, in part, because of the way McCartney phrased it — and also, the Beatles' final album "Let It Be" was yet to be released.
From the group's first studio contract in 1962, it was clear that John Lennon, Paul McCartney, George Harrison and Ringo Starr were something special.
The Ed Sullivan Show
In February 1964, the group made their first appearance on "The Ed Sullivan Show" during their first American tour. It took no time at all for "Beatlemania" to overtake America.
Source: VOA News