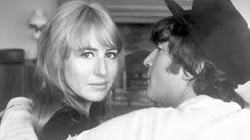 Driving down Vauxhall Street in Waterford at dawn, Sirius radio's Classic Vinyl played the Beatles tune "I Feel Fine" from 1964.
My mind wandered to those young lives on the verge of unimaginable mega-stardom.
Never mind Yoko Ono, I thought, what about Cynthia Lennon, the quiet Beatle wife who stood by her husband for 10 years as their world was transformed by wealth, fame and LSD?
I picked up Cynthia Lennon's 2005 autobiography titled "John" to hear her tale of Beatlemania and finally, bullets.
Cynthia Powell Lennon was a reserved English girl who married a complicated man whom she describes as "a creative genius who sang movingly about love while often wounding those closest to him."
They fell in love while attending the Liverpool College of Art in 1958 and, with Cynthia pregnant, they married in 1962, just before the release of "Love Me Do" started the meteoric rise to fame that changed their world.
Source: theday.com