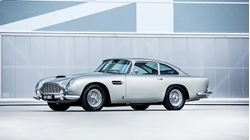 No band is more emblematic of British music than The Beatles, and no car is quite as quintessentially British as a Mini Cooper — except, perhaps, an Aston Martin.
Now's your chance to own what are arguably the two most British pieces of musical and automobile history: an 1964 AstonMartin DB5 formerly owned by Sir Paul McCartney and a 1966 Mini Cooper that used to belong to Ringo Starr. Both vehicles are up for bids via Bonhams, a celebrated auction house in England.
The Aston Martin was purchased by McCartney in 1964 and enjoyed by the Beatle for six years. "Though [McCartney] later owned an Aston Martin DB6, which has been the subject of extensive media coverage, this lesser known DB5 is believed to be the first Aston owned by the musician. He ordered it at a particularly important career juncture: just weeks after the Beatles' famous appearance on the Ed Sullivan Show and the completion of filming A Hard Day's Night, their first film," Bonhams elaborates.
Source: Nicole Raney