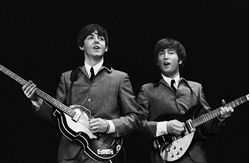 On March 24, a unique archive of photographs of the Beatles will go on sale and is expected to fetch at least $350,000 at auction. Photographer Mike Mitchell was just 18 when he shot the Beatles' first US concert in 1964, and the 413 negatives with full copyright are available to purchase. Mike's story of how the photographs came about is compelling.
"I was in a point in my life where I was learning that photography could take me anywhere," explains Mike, more than 50 years later. Because of the equipment that he had available, Mike shot in black and white without flash and used only available light.
Coming two days after The Beatles legendary appearance on The Ed Sullivan Show, Mitchell also attended the press conference before the gig at the Washington Coliseum, before photographing them again a month later at the Baltimore Civic Center. With virtually no restrictions, Mitchell shot with the intention of creating portraits rather than merely documenting the events and was able to move freely about the stage, producing an intimate encounter with a group that was bringing something completely different to popular culture.
Source: Andy Day /fstoppers.com