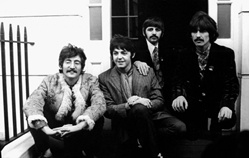 The images were taken in 1965 on the set of the legendary band's comedy-adventure musical, which was released that year. Help!'s plot saw the band being chased around the world after Ringo Starr acquired a sacrificial ring.
Taken by German photographer Bernd Kappelmeyer on location in Obertraun, Austria, the 124 negatives show The Beatles filming scenes in snowy mountains. John Lennon is seen sporting a black winter coat, hat, and shades in the images.
The collection will go up for auction in Newton-Le-Willows, Merseyside on October 16.Other items up for grabs at Omega Auctions include an original sign from Abbey Road and costume patterns for the suits worn by the band on the iconic 'Sgt. Pepper's Lonely Hearts Club Band' album cover.In 2013, Help! was digitally restored and released on Blu-ray.
Source: Tom Skinner/nme.com