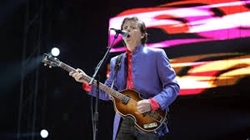 Speculation that the former Beatle will play Glastonbury in 2020 is rife - so what can we expect if he headlines next year?
With tickets for Glastonbury's 50th anniversary festival on sale this weekend, there's been renewed speculation as to who will headline the Pyramid Stage in 2020.
With names like Fleetwood Mac, Led Zeppelin and Elton John all being bandied about, one of the most likely candidates is Sir Paul McCartney.
Michael Eavis even let slip himself that the former Beatle was in his sights for the 50th anniversary, but warned a BBC reporter "You won't make a big thing of it, will you?" Macca has recently claimed that the headline slot is a "remote possibility"....
Paul McCartney at Glastonbury during its 50th year IS a big deal, however. With The Beatles back in the charts thanks to a reissue of their classic album Abbey Road in 2019, next year will see five full decades since the Fab Four split - sending McCartney on a stellar solo career.
Source: radiox.co.uk