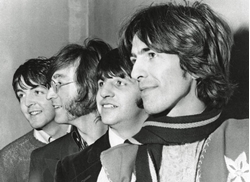 It's the opening track from the legendary White Album… but what angst did the jolly rock 'n' roll classic hide?
With the planet's football teams heading to Russia for the 2018 FIFA World Cup, we've been reminded of the classic Beatles song Back In The USSR.
With the sound of squealing aircraft engines and a screech of guitar, this is a pure piece of Beatles rock 'n' roll that kicked off the Fab Four's ninth studio album, titled simply The Beatles, but named by everyone "The white Album" after its blank sleeve design. But the song hid a secret - The Beatles had started to split up.
The song is a perfect Paul McCartney pastiche of the Beach Boys' happy go lucky style: it's a spoof of the US band's carefree California Girls, but with a satirical spin. In this version, the narrator is exclaiming how happy he is to be back behind the "Iron Curtain" in the former Union of Soviet Socialist Republics.
Source: radiox.co.uk