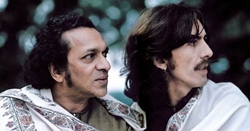 Indian Classical music has its own charm and is like a therapy to some. The ragas and talas in this music drown every music lover into a pool of imagination.
The contribution of many music composers and instrumentalists in the classical music of India is not something to forget.
While some may like Indian Classical music to its core, others may be the fan of Western Music. But two of these fans are often parallel to each other when it comes to choice of their music. But what if they reach a point where they can be the fan of both the kinds of music?
This is possible when two vastly dissimilar artists come together to create something fantastic and over the top.
One such incident is when Sitar maestro Pandit Ravi Shankar and George Harrison of The Beatles met and collaborated with each other.
Source: indiatoday.in