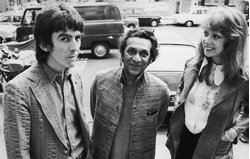 With all the turbulence rattling The Beatles by the late '60s, it's a small miracle the band lasted (sort of) until 1970. By then, it had been years since the Fab Four quit touring and a good while since they enjoyed the company of one another in the recording studio.
If you read about the recording session for "Come Together," John Lennon's biggest hit with The Beatles, you can feel the sadness of Paul McCartney as he describes the date. (Paul wanted to sing backing vocals but felt stupid asking John.)
In this type of situation, the best the four great musicians could do was go out and make careers for themselves. As every fan of their music knows, that's exactly what they did. And, being who they were, each landed a No. 1 single on the Billboard charts within four years.
Being the people they were, it almost meant there was a competition to be the first to top the charts. "The quiet Beatle" ended up being the one to make it there first.
Source: cheatsheet.com