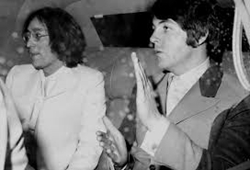 It's no secret that John Lennon and Paul McCartney were at odds in the years following the breakup of The Beatles. If you need some evidence, it's easy to find, whether it's John calling Paul's first solo record "rubbish" or Paul dropping a few digs at John and Yoko Ono on his Ram (1971) album.
When working on his '71 album Imagine, John used that energy to compose an epic response (diss track, if you like) to Paul titled "How Do You Sleep?" That's the one in which he said Paul was making Muzak and only wrote one good song in his life ("Yesterday").
Though Paul admitted to feeling anger in those days, he also spoke of how hurt he was by John's message — a message seen and heard by the entire world. "I think he knew exactly what he was doing and because we had been so intimate he knew that would hurt me," Paul said in his biography Many Years From Now (1997).
Source: cheatsheet.com