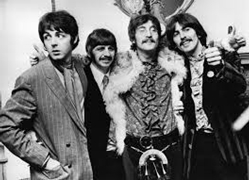 Many people cry when someone close to them dies. However, The Beatles took the unorthodox approach of smiling when their manager, Brian Epstein, died at a young age. During an interview, John Lennon revealed that the Fab Four responded in this way for a very specific reason. He also revealed how Epstein's death changed the history of the Fab Four forever.
The Beatles' career was massively successful, it was also filled with tragedies. John died very young. Ringo Starr struggled with depression. George Harrison was attacked in his own home. One of the early tragedies in the career of the Fab Four was the death of their manager, Brian Epstein.
According to AllMusic, Epstein was one of the most well-known managers in the history of pop music. He was involved with many aspects of The Beatles' career in the mid-1960s, from booking tour dates to launching their careers as movie stars. However, The Beatles didn't require his talents so much after they stopped touring in 1966. Epstein became lonely and started abusing alcohol and drugs. He died of a drug overdose in 1967 at age 33, three months following the release of Sgt. Pepper's Lonely Hearts Club Band.
Source: cheatsheet.com