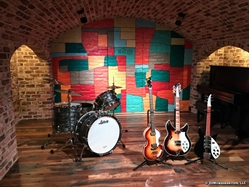 For Beatles fans – or at least this lifelong one – the thought of traveling back in time to see the band in its early days at The Star Club in Hamburg or, better yet, the legendary subterranean Cavern Club in Liverpool is alluring.
The Star Club closed in 1969 and burned 18 years later. The Cavern – at which the Beatles played nearly 300 times, including their earliest appearance as the Quarrymen in 1957 – was demolished in 1973, its underground arches filled with the rubble from the building above. A replica version was built on the site in 1984 using some of the bricks from its predecessor.
Milwaukeeans might not realize it, but in an unassuming low-slung office building at 510 Hartbrook Dr., adjacent to a strip mall in Hartland, 25 miles west of Brew City, local technology entrepreneur and veterans' rights activist Dave Meister has built his own replica of The Cavern Club, using whatever specifications he could muster.
Source: Bobby Tanzilo/onmilwaukee.com