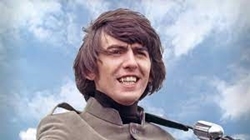 George Harrison shares his favorite albums that he can't live without. Here, The Beatles's guitarist George Harrison reveals his 5 albums of all time.
In mainstream media, George Harrison is known as "The Quiet Beatle." Harrison, born in Liverpool in 1943, became famous as the band's leading guitarist. Over the course of The Beatles' last years, Harrison's songwriting skills were increasingly apparent, with songs like "While My Guitar Gently Weeps," "Something," and "Here Comes the Sun" displaying his ability to construct enduring melodies and heartfelt lyrics. In particular, His song "Something" has been hailed as a masterpiece of romantic music and serves as a testament to his skill as a songwriter.
In addition to his work with The Beatles, Harrison enjoyed a fruitful solo career, highlighted by the release of the triple album "All Things Must Pass" in 1970. The album, highlighted by the global smash song "My Sweet Lord," showed Harrison's spiritual inclinations and was a financial and important success.
He was also unique because he was interested in faith and Indian culture, mainly because he knew Ravi Shankar. There are signs of his impact in how The Beatles and his solo records use Eastern music styles and that he supports good causes.
Source: Yunus Emre/metalshout.com