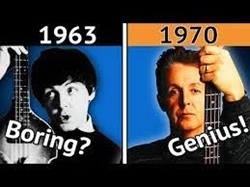 From his early days with the Beatles to a stellar solo career that has spanned decades, Sir Paul McCartney has secured his place as a music giant. The legendary musician is a touchstone of popular culture, but there's more to McCartney than meets the eye—and the ear.
Beyond the iconic hits and the headline-grabbing moments, McCartney's journey reveals a multifaceted artist who has deftly navigated the changing tides of the music industry while continuing to redefine his artistry.
It is with that in mind that we're setting aside the familiar narratives and diving into the lesser-known aspects of McCartney's life that illustrate his immeasurable influence and timeless appeal. Here are five things worth knowing about the most successful songwriter in music history.
Source: Matthew Kayser/americansongwriter.com