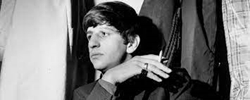 Ringo Starr is sometimes overlooked in The Beatles. In Peter Jackson's Get Back documentary, there are times when Starr waits passively while John Lennon, Paul McCartney, and George Harrison work out their arguments.
Remember When: Alan Jackson Protests on Behalf of His Idol at the CMA Awards
But Starr's swinging groove was an essential and vastly under-appreciated part of The Beatles' sound. Though outshadowed by the other lads, occasionally Ringo grabbed the mic and stepped out front—as he would with a number of successful solo albums and his ever-evolving All-Starr Band on stage.
But here are the five most high-profile times Ringo Starr stepped into the spotlight as the lead singer of the greatest band in rock 'n' roll history.
1. "Yellow Submarine" from Revolver (1966)
Revolver was a groundbreaking album. Innovative and musically diverse, The Beatles experimented with tape loops and double-tracking, using the recording studio as an instrument. Starr leads the band through "Yellow Submarine" and its singsong chorus, whose whimsy might make it the most Ringo-sounding song there is. The tune could be mistaken for a children's song if not for the lyrical fragments that sure sound like one of the song's writers ("Yellow Submarine" was a true Lennon/McCartney composition) was describing an LSD trip.
Source: Thom Donovan/americansongwriter