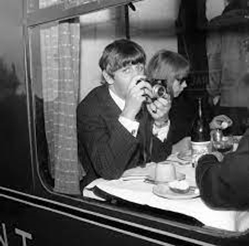 A Beatles engineer thought Ringo Starr shone in 'A Hard Day's Night.' He didn't think Starr came off this way in real life.
In 1964, John Lennon, Paul McCartney, George Harrison, and Ringo Starr starred in the Beatles' movie A Hard Day's Night. They enjoyed the experience, and their fans loved the film. The people who knew The Beatles also enjoyed their viewing experiences. Audio engineer Geoff Emerick, who worked extensively with the band, said it showed him a different side of the musicians. In particular, he appreciated the fact that the typically reserved Starr came across well.
When Emerick saw A Hard Day's Night, he had some issues with the music but no complaints about The Beatles' performances. He also appreciated the fact that he had the insider knowledge to recognize that their onscreen personas did not match their real personalities.
"The Beatles themselves were portrayed as four stereotypes in the movie, and I remember sitting there thinking to myself, 'They're not really like that' — though I was probably the only one in the theater who knew that," he wrote in his book Here, There and Everywhere: My Life Recording the Music of the Beatles. "They were playing their roles very much tongue in cheek, especially Lennon."
Source: Emma McKee/cheatsheet.com