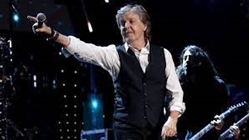 When most people think of Paul McCartney, The Beatles usually come to mind. But the British rock star is also a classical composer.
McCartney recorded and released a live classical album titled "Liverpool Oratorio" in 1991 to commemorate the Royal Liverpool Philharmonic Orchestra's 150th anniversary. And a first-ever operatic staging of the uplifting epic, inspired by the musician's early life, will premiere at Cincinnati Opera's 2024 Summer Festival, organizers announced Wednesday.
According to a press release, the piece tells the story of a young man named Shanty, who was born and raised in Liverpool during World War II. The work follows his life's journey and explores themes of childhood, school days, love, war and reconciliation.
"I am writing to express my wholehearted support for this project. I believe that Cincinnati Opera is uniquely positioned to bring this work to life in a new way, and I have no doubt that your production will be an inspiring experience for all who see it. … I look forward to its premiere next summer," McCartney said in a letter to the company.
Source: cincinnati.com