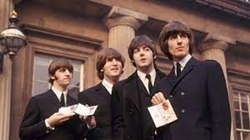 The Beatles were awarded their MBE's on 26 October 1965
A complete set of Beatles autographs obtained by a firefighter who was receiving his MBE on the same day as the band are to be sold at auction.
John Lennon, Paul McCartney, George Harrison and Ringo Starr signed a book for George Goodman at Buckingham Palace on 26 October 1965.
He said it was for his daughter, adding "I don't know what she sees in you" - a comment later repeated by McCartney.
The signatures go on sale in Lichfield, Staffordshire on 9 October.
Mr Goodman's daughter Joy, now 70, said she had had the autograph book "tucked away for years", but felt it was now time to pass it on to a collector who would appreciate it.
Source: Caroline Gall/bbc.com