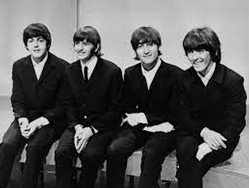 The Beatles, in the year 2023, have a hit song.
In the first chart week following the release of the song "Now And Then," the track topped the U.K. singles chart. Official Charts notes it's the band's 18th No. 1 single in their native country. It's also their first No. 1 single in 54 years since "The Ballad of John and Yoko" topped the charts in 1969.
"Now And Then" is also the most-streamed Beatles song in one week ever in the U.K. The new single netted over 5.03 million streams in one week of release. The next highest streaming figure in one week came in 2021 when "Here Comes the Sun" was streamed 1.05 million times.
Meanwhile, in the United States, "Now And Then" debuted on the Billboard Hot 100 chart at No. 7, which is The Beatles' 35th top 10 single. This is The Beatles' first top 10 song on the Hot 100 since the release of "Free as a Bird" from Anthology in 1996.
Citing Luminate, Billboard notes "Now And Then" had "11 million streams, 2.1 million in radio reach and 73,000 physical and digital singles sold."
Source: Erica Banas // Rock Music Reporter/rock929rocks.com