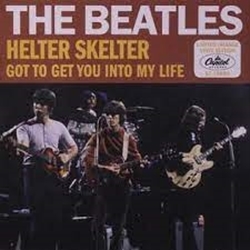 "Helter Skelter" is undoubtedly the Beatles' most controversial song. However, the controversy is no fault of the group and all to do with the infamous Charles Manson co-opting the song for his own use.The track, penned by Paul McCartney and John Lennon, has far less nefarious origins. According to McCartney, the song was one part inspired by The Who's rowdy musicality and one part of childhood memories.
"Pete Townshend had been talking in the music press about how The Who had just recorded the loudest, the dirtiest, the rockiest thing ever," McCartney wrote in his book, The Lyrics: 1956 to the Present. "I loved that description, so I came into the studio and said to the guys, 'Let's just see how loud we can get and how raucous.'
"Let's try and make the meters peak," McCartney added.
The Who inspiration accounts for the grungy guitar and pounding drums, but what exactly is a "Helter Skelter?"
Source: Alex Hopper/americansongwriter.com