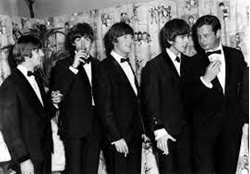 The Beatles rolled their eyes at news Brian Epstein thought would thrill them. Here's how he reacted to their lack of interest.
In 1967, Brian Epstein rushed into the studio to give The Beatles what he saw as thrilling news. He'd booked them a spot on a television program that would reach televisions around the world. Epstein saw this as a once-in-a-lifetime opportunity; for the first time ever, a satellite would transmit a program worldwide. The Beatles didn't think this was nearly as monumental as Epstein did. Their lack of interest nearly drove him to tears.
While The Beatles were putting the finishing touches on Sgt. Pepper's Lonely Hearts Club Band, Epstein rushed into the studio with exciting news. He didn't often visit them during recording sessions, so everyone in the room eagerly awaited his announcement.
Source: Emma McKee/cheatsheet.com