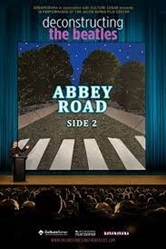 Sedona International Film Festival is proud to present "Deconstructing The Beatles: Abbey Road, Side 2" on Thursday, Sept. 28 at 7 p.m. at the Mary D. Fisher Theatre. In Deconstructing Abbey Road, Beatleologist Scott Freiman has created one of his most in-depth "deconstructions." Freiman takes the audience on a journey track-by-track explaining the inspiration for the songs and their evolution in the studio.
This popular 9-show series — featuring composer/producer and The Beatles historian Scott Freiman — is returning to Sedona in September in preparation for Freiman coming in person in early October to present three brand new Deconstructing The Beatles programs LIVE at the Mary D. Fisher Theatre.
The Beatles' Abbey Road, Side 2 is a masterpiece filled with classic Beatles songs, such as "Come Together," "Something," and "Here Comes the Sun." George Martin told the Beatles to think "symphonically," and they responded by creating the remarkable side two song suite.
Abbey Road was the last time that the Beatles recorded together at EMI Studios — soon-to-be-christened Abbey Road Studios after the album's release. Despite the bittersweet atmosphere that surrounded the recording sessions, The Beatles' outstanding songs and performances together with George Martin's orchestrations produced an album that continues to be regarded as one of the best albums ever created.
Source: sedona.biz