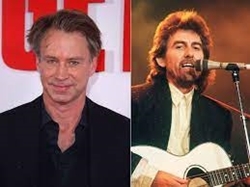 Giles Martin, the co-producer of the Beatles' new song Now And Then, has shed some light on George Harrison's lack of love for the track when they recorded it in the '90s.
Touted as the fab four's "last", Now And Then features sonic contributions from all four Beatles: George Harrison, John Lennon, Paul McCartney and Ringo Starr. The song arrived earlier this month and is part of the newly remastered The Beatles 1962-66 (aka The Red Album) released last week along with The Beatles 1967-1970 (aka The Blue Album).
In addition to the cleaned-up audio sourced from a John Lennon demo tape dating back to the late 1970s, the song features guitar contributions from the late Harrison, who made no secret of his dislike of the song.
Asked if there were concerns about Harrison's wishes being posthumously overruled with the release of Now and Then, Martin told MOJO magazine: "No, because of course this wouldn't happen without [George's widow] Olivia and [son] Dhani's approval."
"It wasn't that George didn't like the track," the producer explains.
"It was that they'd done the other two and the quality [of the Now And Then demo] was so bad, I wouldn't be surprised if George wanted to get back to his garden in all honesty."
Source: musictech.com