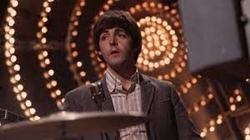 There's no telling what longtime Beatles fans will squirrel away in old suitcases and shoe boxes, but once they're ready to part with these treasured items, they're always sure to fetch a pretty price.
Currently up for bid is an Epiphone guitar string -- one string -- believed to have been used by Paul McCartney during the 1965 recording sessions of The Beatles' sixth studio album, Rubber Soul.
Included with the guitar string listing, hosted by Special Auction Services, are two letters of provenance from Beatles Book Magazine Editor Johnny Dean -- one promising him a piece of Beatles equipment, and another that accompanied the guitar string -- the latter of which says, "This guitar string came from Paul's acoustic Epiphone and was given to me by him after the Beatles last Recording Session" -- dated February 17, 1966.
Source: Joe Cingrana, Audacy