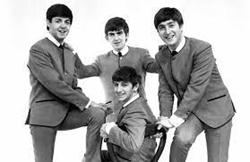 Sir Paul McCartney had doubts all the way through finishing The Beatles' last song 'Now And Then' - but knowing the late John Lennon would have "loved it" kept him going.
From a demo late frontman John Lennon recorded, they used groundbreaking audio technology to beautifully restore his vocals and 'reunite' the group - which also included the late George Harrison and drummer Sir Ringo Starr, 83, one last time.
However, McCartney, 81, admits he questioned himself throughout the process about whether or not they should be doing it.
He told MOJO magazine: "It's strange when you think about it. There's him in his little apartment in New York City banging away at his piano doing a little demo, and ... our team has restored it so now it's a crystal clear, beautiful vocal. How much would John have liked that?! He would have loved that."
Macca asked himself: "Is it a bit inferior? Is it something we shouldn't do? Am I pushing the envelope too far? But every time I thought like that, I thought, Wait a minute, let's say I had a chance to ask John, 'Hey John, would you like us to finish this last song of yours?' I'm telling you, I know the answer would have been... "Yeah.'"
Source: BANG Showbiz/uk.news.yahoo.com