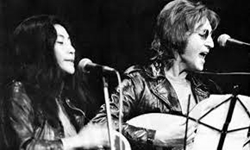 The concert was scheduled to end at midnight. But the 15,000 people crowded into Crisler Arena were content to hang around.
John Lennon was worth the wait.
The former Beatle and his wife, the artist Yoko Ono, were giving their first U.S. performance in two years in support of John Sinclair, a radical poet imprisoned for possessing two marijuana cigarettes. Sinclair, a graduate of UM-Flint and founder of the White Panther Party, was 29 months into a sentence of up to 10 years. His incarceration made him a cause célèbre for those who viewed Sinclair as a political prisoner and victim of oppressive drug laws.
"I won't be bringing a band or nothing like that because I'm only here as a tourist, but I'll probably fetch me guitar, and I know we have a song that we wrote for John. So that's that," Lennon said in a recorded message two days before the Dec. 10, 1971, concert.
The sold-out John Sinclair Freedom Rally was a mishmash of music, poetry, and political speeches. Stevie Wonder, Bob Seger, and Commander Cody – all Michigan performers – shared the stage with poet Allen Ginsberg, Black Panther cofounder Bobby Seale, and several members of the Chicago Seven, activists charged with, and later acquitted of, inciting a riot outside the 1968 Democratic National Convention.
Source: record.umich.edu