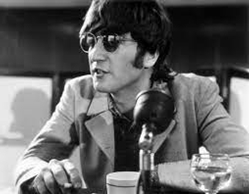 John Lennon was initially optimistic about The Beatles' Apple Records. Within a year, he completely changed his opinion. Here's what he said.
John Lennon was initially a proponent of The Beatles' Apple Records, but he eventually changed his opinion of the company. In an interview, Lennon spoke about how wasteful he found Apple. He expressed the belief that they had to entirely change their business model if they wanted to avoid going broke.
In 1968, The Beatles launched Apple Records. By 1969, Lennon began to question their business model.
"I think it's a bit messy and it wants tightening up. We haven't got half the money people think we have," he said in the book Lennon: The Definitive Biography by Ray Coleman, adding, "We have enough to live on but we can't let Apple go on like it is. We started off with loads of ideas of what we wanted to do — an umbrella for different activities. But like one or two Beatle things, it didn't work because we aren't practical and we weren't quick enough to realize that we need a businessman's brain to run the whole thing."
Source: Emma McKee/cheatsheet.com