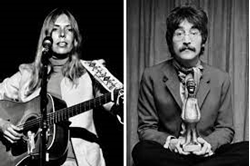 Joni Mitchell and John Lennon famously wrote beautiful songs but their feud got surprisingly ugly.
Joni Mitchell was mad at John Lennon due to unwanted advice he gave her about her music.
Mitchell resented Lennon's comments.
Elvis Presley also reportedly hated Lennon.
Similar to influential bands like Fleetwood Mac, Joni Mitchell is an icon who has changed the course of music history. Given everything that Mitchell accomplished, it certainly seems like her peers like John Lennon should have praised her.
Even though the two celebrated artists seemed to have a lot in common, however, Lennon made remarks that insulted Mitchell. In response, the beloved folk singer seemed to be extremely angry with the former member of The Beatles.
Source: Matthew Thomas/thethings.com