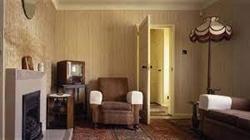 The legacy and fascination of The Beatles continues in the city - but not many know what it is like to walk in the same footsteps every day as a member of the Fab Four before their days in the spotlight.
The late John Lennon lived in his childhood home, Mendips in Woolton, from 1945 to 1963 and it was there that he wrote some of his earliest work before The Beatles rose to stardom. Living with his aunt Mimi, in later years it was Lennon's widow Yoko Ono who bought the house in March 2002, donating it to the National Trust in order to save it from demolition and property speculators.
The childhood home of Paul McCartney - 13 Forthlin Road - is also owned and managed by the National Trust, with many citing it as the birthplace of The Beatles. And whilst the sites continue to attract thousands upon thousands of tourists and Beatles fans from across the globe year on year, not a lot of people can say they have lived in a house of this historic significance to The Beatles story.
Source: Jess Molyneux/liverpoolecho.co.uk