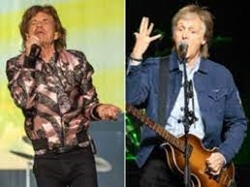 "He said, 'It's great playing with a band!'"
Mick Jagger has spoken about working with Paul McCartney on The Rolling Stones' upcoming new album 'Hackney Diamonds'.
The legendary band announced their 24th studio record on September 6 and shared its lead single, 'Angry'. Following on from 2005's 'A Bigger Bang', the LP will mark the Stones' first collection of original music in 18 years.
Last week, it was revealed that Beatles icon McCartney had played bass on a song called 'Bite My Head Off'. He'll appear on 'Hackney Diamonds' alongside Lady Gaga, Elton John and Stevie Wonder.
During a recent interview with Q on CBC, host Tom Power asked Jagger how the collaboration with Macca came about.
"Paul was in LA when we were recording, and he was supposed to work with Andy [producer Andrew Watt] one week," the frontman replied. "Andy said, 'I'm working on this record ['Hackney Diamonds'], and if it takes six months I'm gonna do nothing else'.
"Suddenly we get to this one week and he says, 'I forgot to tell you – I'm supposed to work with Paul this week'. So we worked out the schedule and [Watt] said, 'Why don't we get Paul to come in and play on something?'"
Source: Rock Feed/rockfeed.co.in